("arūpa-loka")

Neither perception nor non-perception
Equivalent to the immaterial jhānas
84,000 aeons
Nothingness
60,000 aeons
Infinite consciousness
40,000 aeons
Infinite space
20,000 aeons
Fine material world
("rūpa-loka")
The Supreme/peerless
Place of rebirth for non-returners
16,000 aeons
The Clear-sighted
8,000 aeons
The Lovely/beautiful
4,000 aeons
The Serene/untroubled
2,000 aeons
The Durable/"not falling away"
1,000 aeons
The Unconscious
Body only, no mind
500 aeons
Great reward/very fruitful
fourth jhāna
500 aeons
Refulgent glory/complete beauty
third jhāna
65 aeons
Boundless beauty
32 aeons
limited beauty
16 aeons
Streaming radiance
second jhāna
8 aeons
Boundless radiance
4 aeons
Limited radiance
2 aeons
Great Brahmā
first jhāna
1 aeons
Brahmā's ministers
½ aeons
Brahmā's retinue
⅓ aeons
Sense-desire world
("kamā-loka")
Masters of the creation of others
devas
16,000 celestial years
Those who delight in creation
8,000 celestial years
The contented
4,000 celestial years
The Yama gods
2,000 celestial years
The thirty-three gods
1,000 celestial years
The four great kings
500 celestial years
Human
you are here
not fixed
Jealous gods
states of misery
Hungry ghosts
animals
hell
-->
Figure
: Realms in the Buddhist Cosmology
So here is the nickel tour.
The word "aoen" is the English translation of the Sanskrit word "kalpa" (Pāli: kappa). In both Hinduism and Buddhism a kalpa is a life of the universe, i.e., the time between the creation and recreation of a universe. Note that Western scientists only started to believe in a cyclical model of the universe in the 1980's.
A "celestial year" is "360 celestial days". A celestial day equals 50 human years in the lowest heaven ("the four great kings") and doubles with each level. In other words, it's a long time.
So starting from the top down, if - when you die - you have mastered the eighth jhāna, "the sphere of neither perception nor non-perception", you will be reborn into the highest formless world, and be there for 84,000 aeons. And so on down the line to the heavenly realm of "Brahmā's retinue", which is the lowest heavenly realm that corresponds to a mastery of jhāna. Thus there is a mapping between the human mind and human consciousness and the highest 20 heavenly realms.
Just below that are the 6 heavenly realms of the "devas". Devas are "lower-level gods", similar to humans, but happier, longer-lived, and more powerful. Because devas are close to human beings in the hierarchy, there are people who can see them. Bhikkhu Bodhi says that at the monastery in Sri Lanka where he was, there was a valley next to the monastery where lots of devas lived, and some of the monks could see them. Tradition also holds that devas know where they are not welcome, or where human beings are not well-behaved, so it is unlikely that devas live in places that lack compassion and kindness. They're not hanging around Walmart, Trump Towers, or hedge fund managers.
Going below the human realm, you can see the places where you don't want to go. These realms also map to human consciousness. Hell maps to anger in human consciousness. You probably know people who are angry all the time. This is the hell realm manifesting in a human life.
The amount of time someone spends in a hell realm depends on their karma. A basically good person who has some bad karma manifesting may be there for a brief time. Someone who is especially cruel will be there for a very long time, perhaps aeons. (Think "Nazis".)
There are those who believe that Christians got their notion of hell from Buddhism. You may have heard that in Jesus' lost "40 days in the desert" that he went to India where he was influenced by Buddhism. Buddhism was in its hey-day in India at that time, pre-dating Jesus life by about 400 years. Many early Christians, including St. Augustine, believed in reincarnation.
The primary characteristic of the animal realm is that animals only behave according to their nature. Lions are lions and monkeys are monkeys, alligators are alligators. You also see this at play in the human world where some people do not exercise any filters or judgment in their behavior. One of the qualities that we cultivate in our practice is the ability to exercise choice, not to be victims of our thoughts and emotions.
Hungry ghosts (Pāli: peta) have unquenchable desire. They are usually depicted with huge stomachs and very small throats; their hunger is never satisfied This is a metaphor for all types of desire. You may know people like this; no matter how much they have, it is never enough. People like this are never happy; they are never contented. They are hungry ghosts living in the human realm, and they may be reborn in the hungry ghost realm.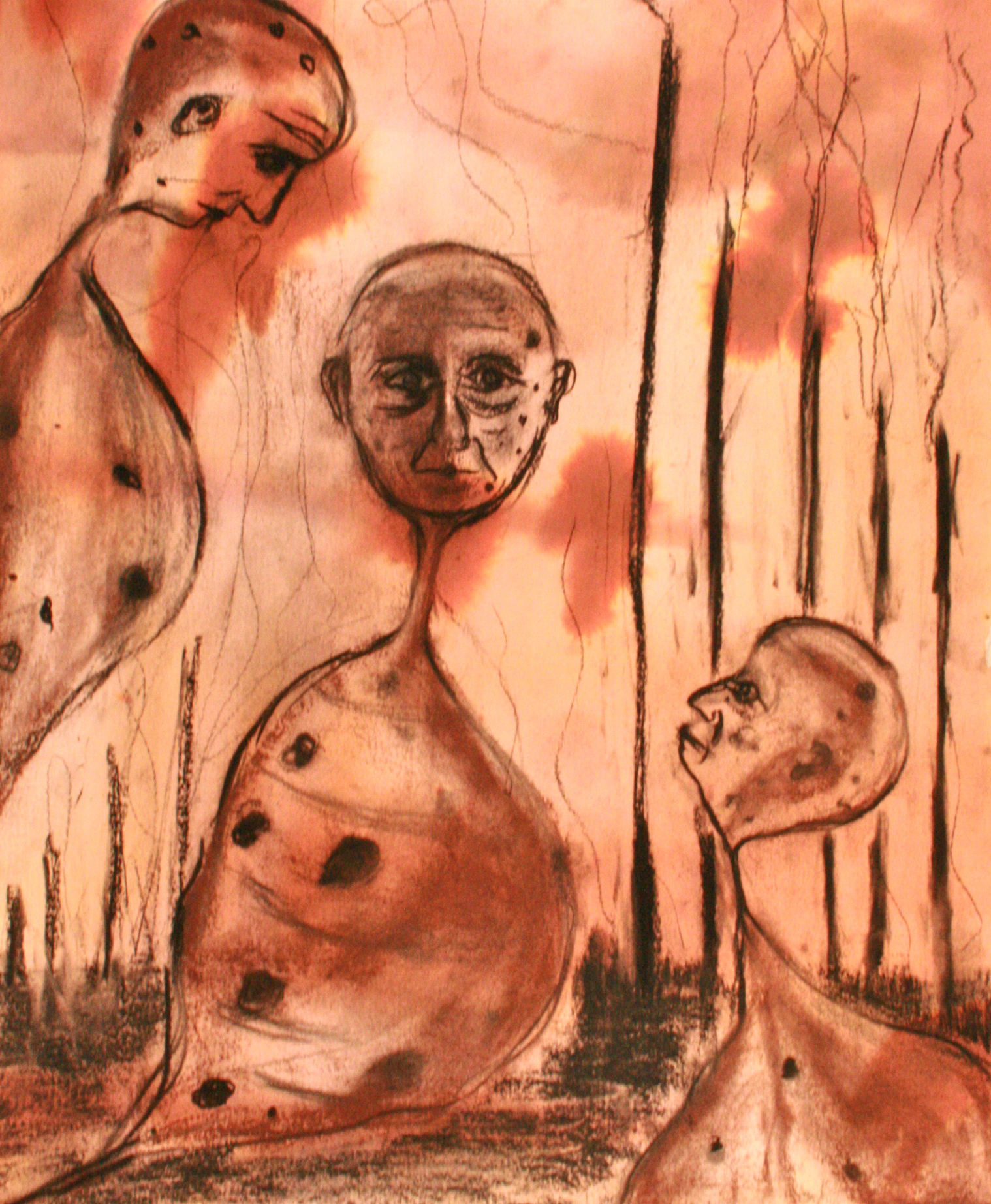 Figure
: Hungry ghosts
Hungry ghosts play an important part in the Buddha's teaching. The foundation of the path is generosity. Generosity is the feeling that you have more than enough, so much so that you can give it away. All of our conditioned experience - the prison of saṁsāra in which we find ourselves - is because we are constantly feeding, wanting, craving and clinging, and generosity is the antidote for that.
The jealous gods (Pāli: asura) are self-absorbed, egotistical, violent, angry with everyone, always looking for a fight. They are addicted to their passions. The Zen patriarch Zhiyi says this about the asuras: "Always desiring to be superior to others, having no patience for inferiors and belittling strangers; like a hawk, flying high above and looking down on others, and yet outwardly displaying justice, worship, wisdom, and faith - this is raising up the lowest order of good and walking the way of the Asuras." - [Wikipedia]
They are the bullies of the cosmos.
Implications of the Buddhist Cosmology
There are many implications to looking at existence from this perspective. For example, you may find that parts of your temperament are problematic. Whatever quality it is, it may be manifesting as its opposite from a previous life. The Buddhist tradition famously holds that stinginess manifests as poverty, and wealth manifests from generosity.
Another example is that some people, no matter how knowledgeable they are, find that others tend not to find them credible. This is from past karma. People who lied a lot in a previous life will have this quality manifesting.
This is not intended to make us more judgmental. It just puts everything into a bigger space. And remember, it does not imply that someone is inherently superior or inferior, only that a particular type of karma is manifesting.
It also helps us to dis-identify with such traits. If you see such a trait, you can be a little more accepting of it. Of course, you want to work with it and cultivate virtue. But if it is a strong part of your temperament, it may not go away.
There is a story about Ajahn Chah and a lay person who had known him for 10 years. One day Ajahn Chah mentioned that he had an inherently angry temperament. The lay person was very surprised, and said that he had never seen Ajahn Chah get angry. Ajahn Chah responded that while the anger arose, "It has nowhere to go". That is a skillful way to cultivate the mind.
Our relationships may also have karmic roots in a previous life. You may meet people who have strong negative responses to you even though you have done nothing to warrant that. That may be the result of past karma. Or you may find yourself strongly drawn to someone, likewise for no discernible reason. The Buddhist tradition also holds that we are born to our parents because of karmic links. These may be good or bad.
It is important to remember that we don't really know. The Buddha himself said that if you try to understand all the causes and conditions that have a certain result you will go mad. [AN 4.77] But it can be helpful to know that when seemingly inexplicable events happen, they may be karmically rooted.
And finally, there is the really big picture. This path is not just about dealing with an unhappy job or being a little less stressed out on the drive to work or making up with your significant other. The stakes are enormous. The whole of existence is full of risks. It is all a bit of a crap shoot. We can improve the odds, but there are never any guarantees. The Buddha's final words before his passing were these:
Then the Lord said to the monks: 'Now, monks, I declare to you: all conditioned things are of a nature to decay - strive on untiringly.' These were the Tathāgata's last words. - [DN 16.6.7]
Summary
In this section we saw how the teachings on rebirth are central to the Buddha's path. We discussed the stages of Awakening:
Stream-entry
Once-returner
Non-returner
Arahant
We discussed the 31 realms of existence (plus nirvāṇa/nibbana, making 32), and how we are born and reborn according to our karma.
And finally we discussed some of the implications of rebirth, how our karma may be playing out in this lifetime. Most importantly, the rounds of rebirth are uncertain, and we should "strive on untiringly" to Awaken, for this is the only guarantee of freedom.